ROGERS PASS
To share any info your have on backcountry skiing at Rogers Pass, or to get the lowdown from others, check out our backcountry skiing forums on the region. There is a large collection of routes to ski at Rogers Pass so we have grouped them by their location in the Asulkan Valley and then listed other routes in the Pass next, below. Note that the route descriptions for the areas other than the Asulkan Valley are a little "thin." For more detail, speak to a local ski guide in-the-flesh, or consult one of the area guidebooks. If you'd like to contribute more detail to these or other Pass routes, please go to our Submit a New Route page and share your info. It'd be appreciated!
Though the ski touring around Rogers Pass may not fit into the established "slackcountry" mould, the access and quality of skiing terrain is good enough that we'd like to share it. It's also spitting distance from Revelstoke and Golden, and half a day's drive from Nelson. Rogers Pass is known as one of the premier ski touring destinations in North America and, more and more, people from all over the world are visiting to check out the legendary snow, big mountain feel and massive terrain selection. For more information on Rogers Pass, check out the Parks Canada site. For info on avalanche hazard, look to the avalanche bulletin. Enjoy the routes listed below that start out of the Asulkan Valley but look farther down the page for more classic routes around Rogers Pass that you will not want to miss.
ASULKAN VALLEY
For the routes we describe here, we assume that you are doing a day trip rather than staying at the Asulkan Cabin. If you'd like to recharge your batteries and start the day at 2100m (6890'), you can reserve the cabin through the Alpine Club of Canada. Note that the elevation gains listed here are from the parking lot off the highway at the beginning of your skin up.
To access all the routes described here, start at the parking lot just off the highway (this lot serves the Wheeler Hut also), climb up the steep slope to the left of the small utility buildings through the trees for approximately 50m until you join an old railway road. Turn left onto the road and follow it for a just under a km. When the trail bends east at a big open space, the trail splits right off this road (continue left and you'll reach the Wheeler Hut). From here, the uptrack leads you along the Asulkan Creek up through varied terrain—avoid the two forks going left and continue on the main trail. There are several avalanche slopes along the way and this section of the tour finishes with the Mousetrap—a particularly hazardous terrain trap. Good avalanche safety skills and a close reading of avalanche reports beforehand are essential.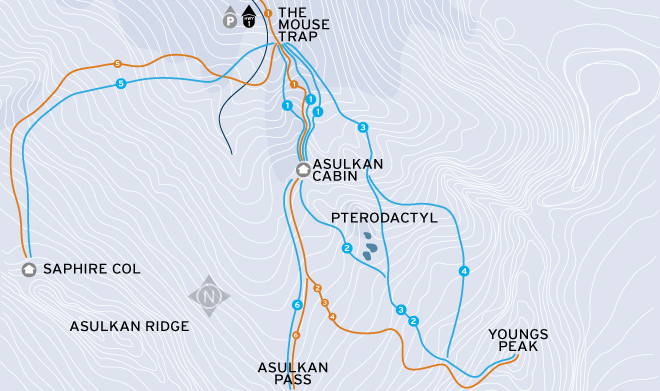 (This map is not meant to be used as a navigational aid but rather a visual indication of the route description.)
ASULKAN VALLEY ROUTES:
1. Tree Triangle
2. Pterodactyl
3. 7 Steps of Paradise (Youngs Peak)
4. Paradise
5. Saphire Col
6. Asulkan Pass
OTHER ROUTES:
7. Cheops Glades
8. NCR Gullies
9. Connaught Creek Area - Grizzly Shoulder
10. Connaught Creek Area - Balu Pass
11. Connaught Creek Area - Urus Trees
12. Illecillewat Valley - Practice Trees
13. Illecillewat Valley - Lookout Col
14. Illecillewat Valley - Perley Rock
15. McGill / Bostock - McGill Shoulder
16. McGill / Bostock - McGill Pass
17. Connaught Creek - 8812 Bowl
18. Bonnie Trees & Glacier
For a full listing of backcountry huts, cabins and lodges check out the Interior Mountain cabins/huts/lodges page over here. If you are looking for maps and guides to the area then check out the following publications in our Backcountry Skiing Canada Store:
---
Backcountry skiing is an inherently dangerous activity that requires experience and knowledge to travel safely. Any of the routes on this site may be dangerous depending on conditions. You are responsible for your own safety in the backcounty—the team behind backcountryskiingcanada.com disclaim any responsibility for any injury resulting from people travelling on routes described on this site. To read our Terms of Use and get all the details, read HERE.
---
---
---
---
---
---
---
---
---
---
---
---
---
---
---
---
---
---
---