ACC Wapta Traverse huts and the HI Lake Louise Hostel
Spring this year, four of us set out from Nelson, British Columbia for five-days of ski touring along the famous Wapta Ski Traverse. Two of us were Wapta virgins, the other two having done the traverse years before. We had booked the Alpine Club of Canada huts more than six months out to ensure we could secure a place for each of our crew, there was no knowing then whether we were booking a week of bluebird skies or a week of storms. We backed a winner week and had perfect bluebird and stable mountain conditions for the entire time. On top of that the snow pack was one of the best it had been in years so the terrain was not as rocky as usual. March had been really good for snowfall. The base at Lake Louise was at 260cm and we almost got 3 metres when one of our party probed. You will hear many stories of the Wapta Traverse, don't let our picture-perfect account mislead you, we could easily have been up there in white-out conditions with a sketchy snow-pack the entire time ... but we weren't and the traverse felt like a breathtaking walk in the park—this time.
The Crux of the traverse, the Balfour high Col.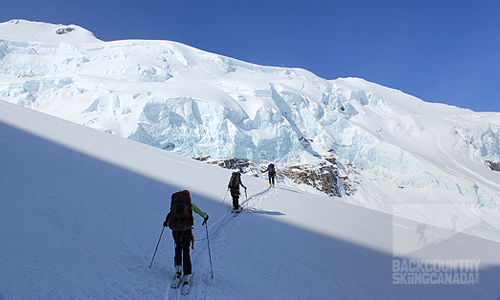 Logistics:
Booking Cabins, Wilderness Passes and Vehicle Permits.
There are four huts along the Wapta Traverse, the Peyto Hut, the Bow Hut, the Balfour Hut and the Scott Duncan Hut. Each can be booked by calling the Alpine Club of Canada (ACC) at $25/night for members and $36/night for non-members, no tax. You will also need to buy a National Parks Wilderness Pass for backcountry overnight use in the parks . Your Wilderness Pass should be carried in the backcountry at all times as a ranger may ask to see proof of purchase. If you buy these passes from the ACC, A portion of the Wilderness Pass fees collected by the ACC go toward conservation and environmental work at the Club's huts located within National Parks. You will be offered the option to purchase a Wilderness Pass when you make a cabin reservation, you can also buy an Annual Park Pass. All vehicles stopping in a National Park must have a Park Motor Vehicle Permit. Annual or single day permits can be purchased at most Park entrance gates and Park visitor centres and soon through the Alpine Club of Canada's national office.
Staging for the Wapta Traverse:
Unless you live in the Rockies, Lake Louise is a great place to stage from. We stayed at the Lake Louise Hostel (more on that in a moment). Ideally you need two cars for the traverse, though you could try your luck at hitching. We drove both vehicles out on the morning of day one and dropped one car at Wapta Lake (by the West Louise Lodge on the Kicking Horse Pass) the other car we used to get us to the trail head at Peyto Lake. We narrowly missed a road block on the Trans-Canada caused by an accident so it's not a bad idea to include extra time into your plans for the unforeseen.
For a quick overview of the traverse to know what you are getting into have a watch of this video.
---
Hosteling International Lake Louise Alpine Centre:
Staying at the Lake Louise Alpine Centre before and after the traverse was more than ideal for a number of reasons.
⁃ It's close proximity to the Wapta Icefields, as well as other ski tours in the area.
⁃ It's incredibly comfortable and probably one of the nicest Hostels Canada has on offer.
⁃ After five days of hiking and skiing with no bathing they have HOT showers.
⁃ There are lockers to store gear you may want to leave while on the traverse.
⁃ They are close to Lake Louise Ski Resort if you want to check out the ski hill for a day.
⁃ Free wi-fi.
⁃ They have a SAUNA.
⁃ There are fully equipped kitchens.
⁃ Better still they have a licensed on-site restaurant (Bill Peyto's cafe) that serves great food, breakfast, lunch and dinner at reasonable prices, ideal after five days of dehydrated meals or for a big breakfast the morning of departure.
The Lake Louise Alpine Centre looking very wintery.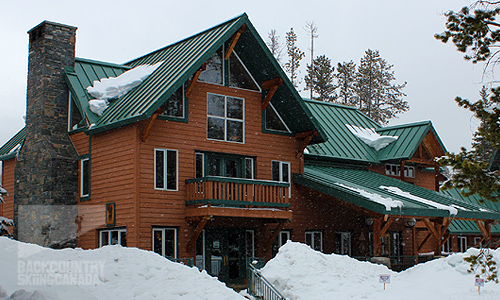 Main entrance gathering space and relaxing area outside the rooms.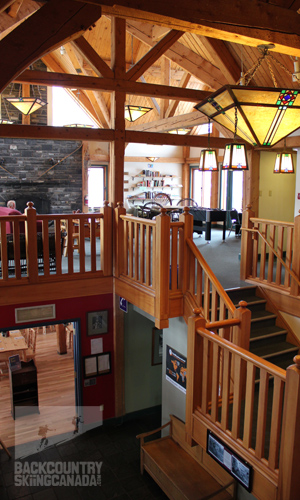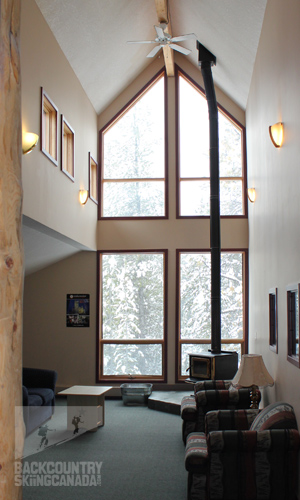 Sheets are provided and plenty of room to organize your gear.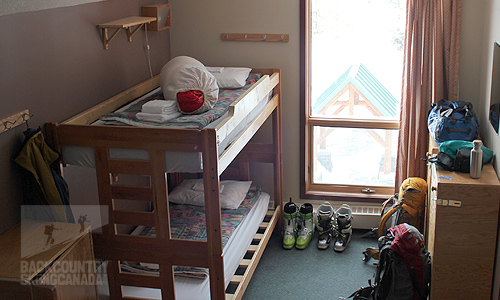 Full kitchen if you choose to cook yourself.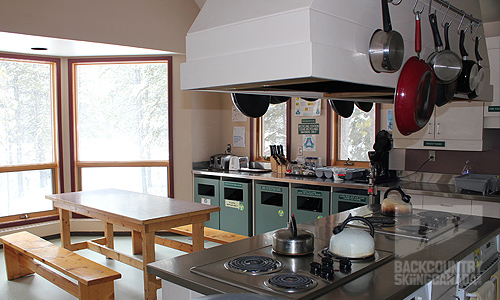 Bill Peyto's Cafe serves up mighty fine food.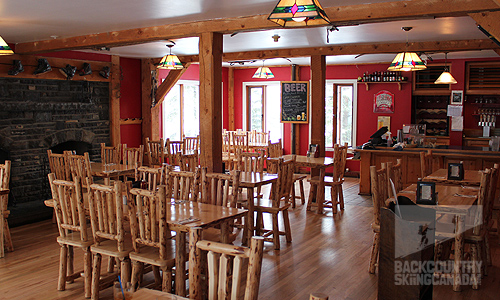 Dinner or a celebratory meal after you complete the traverse or a day of skiing at nearby Lake Louise Resort.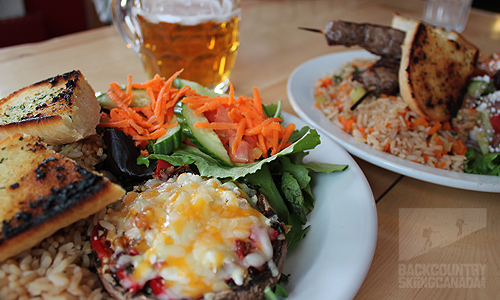 The only way to start the trip.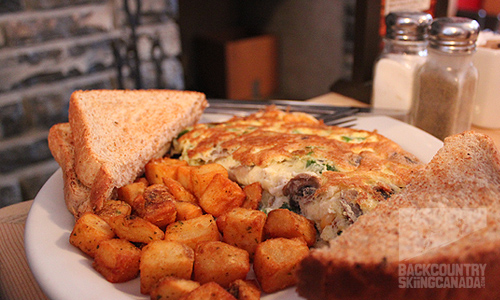 The Lake Louise Hostel or Alpine Centre as it is now called is a joint venture between Hostelling International and The Alpine Club of Canada (ACC), so ACC members get member rates. The hostel offers an assortment of 3, 4, and 5 bed dorms as well as privates. Group Pricing starts at $21.44 per person per night for dorm beds. Groups are very welcome and they can cater meals for large groups. Every weekend is usually booked up so make sure you book ahead, after Easter weekend spots start to open up so there is some flexibility at that time.
---
The Alpine Club of Canada Huts along the Wapta Traverse Route:
Peyto Hut (Day 1):
With our packs loaded we had a wild start from the parking lot at the Bow summit on the west side of Highway 93. We descended down from the parking lot toward the Peyto Lake into some very tight trees. It seems we could have traversed left a little further to avoid the worst of it. We emerged a little ragged quite some time later with a few scratches on faces but thankful we had negotiated close trees, log drops and gullies whilst carrying loaded packs without mishap. We made our way over Peyto Lake to a creek crossing where we stopped to look at our route alternatives. A group of eight ahead of us had taken the gully to the left, a direct route which avoided additional elevation gain. They later mentioned that it was fairly straight forward thanks to the deeper snowpack. We opted to take the Moraine to the north so that we weren't exposed to hazards above the gully, though avalanche danger on the Moraine could be a consideration if conditions were unstable. We arrived at the Peter and Catharine Whyte (Peyto) Hut finding it comfortable and well maintained. It was a full house with the group of eight arriving shortly after. There is no heating in the cabin though the afternoon sun does a great job of warming it up.
Hut Elevation: 2,500m / 8,200ft
UTM Coordinates: 11U 531470 5723692
Accommodation: 16 in winter, 18 in summer (Dorm)
Amenities: Sleeping pads, cooking utensils, pots and pans, two-burner propane cook stoves, outhouse, propane lighting.
---
Bow Hut (Day 2):
It's a short and easy hike to Bow hut. We toyed with the idea of a quick summit of Mt. Rhondda South on route but once in her vicinity the visibility was poor—so poor that we couldn't even see Mt. Gordon, so we headed straight down to the Bow. We arrived at the Bow hut plenty early so we took advantage of the long day-light hours and skied a few laps on the near by Crowfoot Icefield.
The Bow Hut is a busy place with a large capacity (30 beds). Easily accessible from the highway it is a popular stop for day trippers and o'nighters alike. For me lunchtime is the best time of day to be there—sunny and less hectic. At night time the common area is fairly overrun and packed full of gear drying, skins hanging like fly-paper from the racks. The beauty of the Bow is that the sleeping area is completely separated from the common area so the noise doesn't carry and there is a wood stove in both the common area and the sleeping quarters.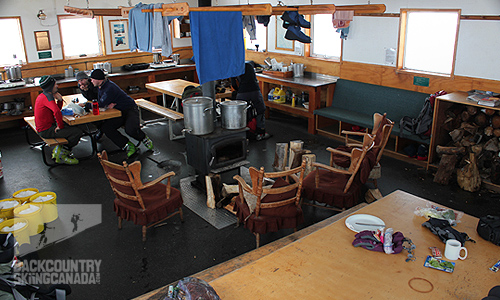 Hut Elevation: 2,350m / 7,700ft
UTM Coordinates: 11U 535296 5720566
Accommodation: 30 in winter and summer (Dorm)
Amenities: Sleeping pads, cooking utensils, pots and pans, several two-burner propane cook stoves, outhouse, propane lighting.
---
Balfour Hut (Day 3 & 4):
From the Bow we headed onto the Balfour Hut via Mount Olive the general route wraps around St Nicholas from the north to the Mt. Olive-St Nick col. With the solid conditions we were able to go East around St Nicholas hitting the Mt. Olive-St Nick col from the other side. This shaved some time and length off leaving us plenty of time to drop the skis and boot pack the ridge to the top of Mount Olive. A great way to assess the terrain for our next day of touring as well as the route over the Balfour High Col. We made our way down to the Balfour Hut. Probably my favourite hut on the traverse it's neat with a small deck, a mud room and sunny (when the weather is good) south facing windows. From the cabin there are also great views of the Balfour High Col. It's a the perfect place to watch other groups come and go. We were here to stay for two nights.
We took a day off to go and explore without having to carry weight and also to chill and celebrate on of our group member's birthday. We hiked for two beautiful laps over to the Diableret Glacier finding some rockies powder which was surprisingly well preserved from the most recent storm. We spent the afternoon soaking up the sun on the cabin deck. Watch your belongings outside of the Balfour as there are some very clever ravens, who are happy to poke around for food.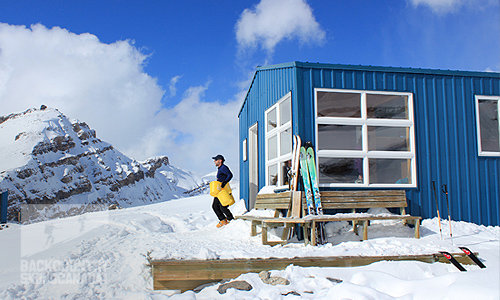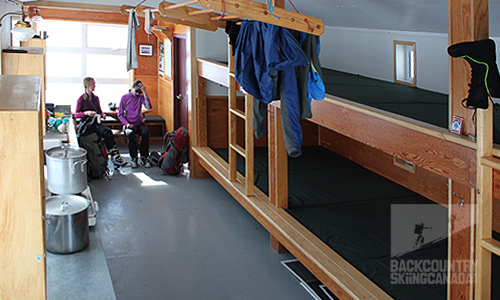 Hut Elevation: 2,470m / 8,100ft
UTM Coordinates: 11U 537754 5715765
Accommodation: 16 in winter, 18 in summer (Dorm)
Amenities: Sleeping pads, cooking utensils, pots and pans, two-burner propane cook stoves, outhouse, propane lighting.
---
Scott Duncan Hut (Day 5):
We left the Balfour early before things warmed up too much. This is the crux of the traverse containing the most complex terrain we had to negotiate but with sunny skies and a decent snowpack to fill the crevasses the roped section was fairly straight forward. We reached the Balfour high col with enough time to hike up to Mount Balfour. I found myself cursing I didn't bring an ice axe for the ridge walk to the top of Balfour as it would have helped off-set some of the exposure. For some it would be an easy ridge-walk but for me there were a few exposed snow-slopes to traverse that could have had consequences. The views from the top of Mount Balfour are spectacular. If the weather permits it is a worthy side-trip. We descended down across the glacier to the Scott Duncan Hut. Aware that there were crevasses under foot but seeing no visible signs of openings thanks to the snow pack once again. The least glamourous of all of the Wapta traverse Cabins, the Scott Duncan is a simpler and smaller shack perched over a rocky slope. It cut the wind though and so was comfortable enough for our weary bones. The simple food we had remaining for dinner suited the simplicity of the cabin.
From the Scott Duncan Hut we skied towards the rocky thumb of Mt. Daly where we began our long descent. We skied down along snowy benches followed by treed glades and then along Niles Creek. We ski-skated across Sherbrooke Lake finding a trail through the trees that leads to the Trans Canada Highway at West Louise Lodge on the Kicking Horse Pass. Check your speed on the final trail, it was a bit of a luge track.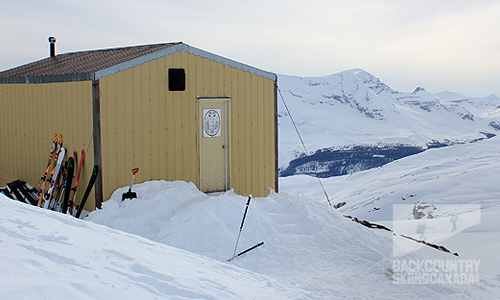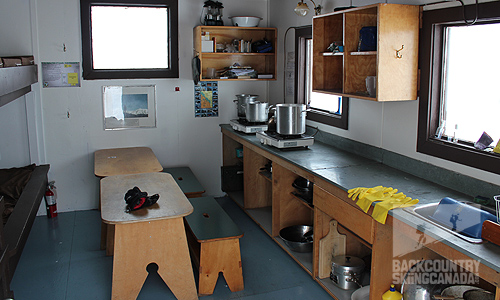 Hut Elevation: 2,773m / 9,100ft
UTM Coordinates: 11U 541506 5708750
Accommodation: 12 in winter and summer (Dorm)
Amenities: Sleeping pads, cooking utensils, pots and pans, two-burner propane cook stoves, outhouse, propane lighting.
---
Cabin Etiquette:
A few tips on Cabin Etiquette as the cabins are shared spaces, the way we maintain and leave a cabin can vastly impact other recreationalists. These are busy cabins, so every little bit helps. Keep the following in mind.
⁃ Pee only in the outhouses provided and not in the snow this contaminates the water supply.
⁃ Don't leave food, somebody else will just have to pack it out (as we did for the person who left the glass bottle of hot sauce).
⁃ Tone it down. Keep it quiet in the morning if there are others still sleeping. Pack and organize what you can the night before or in the common area, after all not everyone is going for an alpine start.
⁃ Empty any water before you leave—it takes a lot of energy to melt a solid block of ice.
⁃ Leave the cabin cleaner than you found it.
If the Wapta Traverse is something on your bucket list then get to it. Hire a guide if your skills are lacking and just because Hostelling International (HI) and the Alpine Club of Canada (ACC) offer up some super comfy cabins don't get complacent—prepare for the worst but hope for the best.
PROS:
The Lake Louise HI Hostel is incredibly comfortable with everythign you need, hostelling prices only make it better. The Alpine Club of Canada huts along the Wapta Traverse make getting into the heart of the rockies infinitely more comfortable, social and less effort. The cabins are perfectly spaced apart with the longest day being only 11 km.
CONS:
This is glaciated terrain so just because there are cabins along the way don't get too complacent, ensure you have the proper skills or hire a guide. Relax when you reach the cabins but have your senses on high alert while ski touring between, weather moves in fast and white out conditions are very common. When staying at the cabins you are in close proximity with and sometimes at the mercy of your fellow recreationilists behaviour, so cabin experiences can be enhanced or challenged by other groups/individuals, it can require tolerance and patience (and ear plugs) especially at the Bow hut.
This is only our opinion. Do you disagree? Did we miss something? Are we totally out to lunch? People like/dislike huts for different reasons so chime in and we'll get a well-rounded evaluation.
A few more photos of the incredible views and terrain on the Wapta Traverse: