SOAP BOX
The Soap Box Comp is now closed for this year—thanks to all those who entered. Stay tuned for future comps or a re-run of this one down the road.
---
Do you like to share a good story? Are you a passionate and prolific pontificator of backcountry exploits? This season's comp may be for you. We're tweaking our format a bit and offering over $10,000 in prizes. The Comp starts January 1st 2014 but feel free to enter sooner as it will still count.
Winning is simple. We are looking for backcountry skiers to contribute high-quality posts often. That's correct—quality and quantity are both criteria. We'll be bestowing a total of 22 (!) prizes from Jan 1- Mar 31. Get on it!
---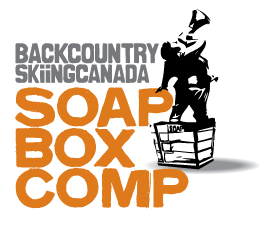 Five Simple Steps to ENTER.
1. Sign up to our forums.
2. Create a post with a photo, video and a creative description - (Photos: jpeg format, 72 ppi, 1500 pixels max width. Movies: linked from Youtube or Vimeo) and include "SOAP BOX COMP" in your title.
3. Check back at the end of the month (January, February, March) to see if you have won one of that month's prizes.
Repeat steps 2-3 often.