Downtek Stormdown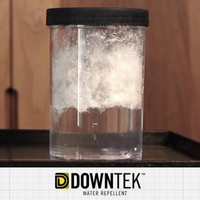 DOWNTEK Stormdown - a specially coated down that repels water and allows it to maintain its loft – it's appearing in many high-end products from companies such as Eddie Bauer, Jottnar, Mountain Hardwear and Millet, to name a few. Backcountry Skiing Canada received the Eddie Bauer Airbender 20 sleeping bag and put it to the test to see if DOWNTEK's Stormdown really does set the new benchmark in down performance and reliability.
First off, a few words about the Eddie Bauer Airbender 20 sleeping bag. This is one trick bag. In addition to utilizing DOWNTEK's 850-fill Stormdown, it features durable 15d Pertex nylon shell on top, ClimaShield HL synthetic insulation bottom, and a proprietary, built-in inflatable air mattress that rolls your bag and sleeping mat into one convenient, lightweight unit. The winner of National Geographic's Gear of the Year award in 2014, this bag is deserving of consideration in it's own right. The stuff sack even includes the innovative pump to inflate the built-in mattress. We were very impressed by the design and concept of the $799 Eddie Bauer Airbender 20 sleeping bag.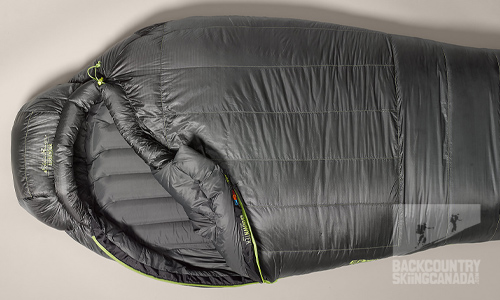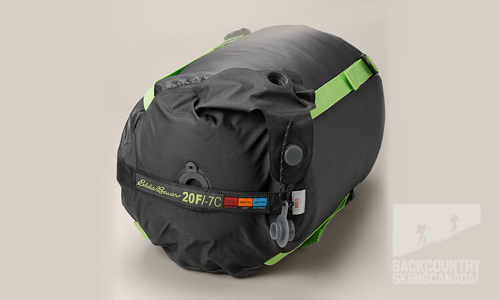 But were here to talk about what's inside, namely the Stormdown powered by DOWNTEK. In a nutshell, or in this case a sleeping bag, Stormdown is essentially a special "all natural, non-synthetic" coating applied to the down to prevent it from absorbing water. DOWNTEK claims this absorbs 30% less water than untreated down, dries 60% faster and retains more loft when wet. The coating adds virtually no additional weight and is washable with designated down-specific detergent.
We used the Airbender 20 sleeping bag in a variety of conditions, ranging from direct air exposure on moist fall nights to inside a bivvy sack in temperatures dipping just below freezing (the Airbender 20 is rated to -7 Celsius). In the first example, there was ample dew in the morning and the nylon shell was wet to the touch however the bag itself retained its loft and warmth. In the freezing temperatures and inside the bivvy sack, which anyone will attest often promotes moisture build up due to the lack of the bivvy's breathability, the same was true: the nylon was noticeably moist but the loft, and warmth, of the bag was maintained. In both cases, the bag dried very quickly.
While no down sleeping bag will sustain a torrential down pour of rain, we did hose the Stormdown down enough to penetrate the nylon casing to see how the down would react. While most traditional down will lump up (and put a lump in your throat as you possibly ruin the bag), the Sto mdown was wet but it didn't ball up the same way. Left to air out, it was dry in a couple of hours, which was pretty impressive.
Features:
- 93/7 percent treated goose/duck down
- Absorbs 30% less water than untreated down
- Dries 60% faster than untreated down
- Retains loft after exposure to water
- Washable with down-specific detergent without losing water repellency
- Retains same fill loft as normal down with virtually no weight penalty
- All natural and claimed "environmentally safe"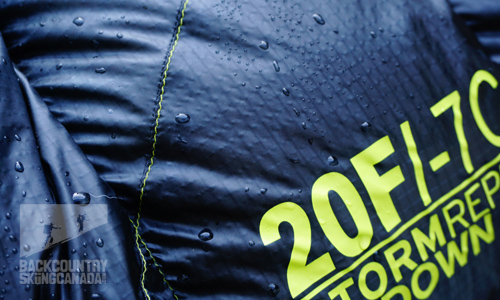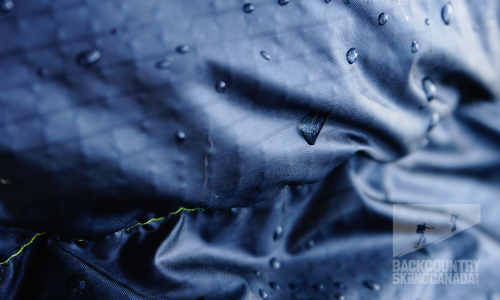 Verdict:
The search for a water repellent is the holy grail of the outdoor industry and there are other treated down products (i.e. Marmot Down Defender, Sierra Designs DriDown) on the market. But after rigorous testing, top brands as mentioned above are convinced the DOWNTEK Stormdown is the best out there, and our experience doesn't downplay the claim. While you won't go sleeping in a monsoon in the Stormdown expecting it to stay dry, you can expect that it will stay dry longer, dry faster and maintain it's loft (i.e. insulation) considerably better than untreated down. If we're headed "out there," this peace of mind makes the DOWNTEK's Stormdown a winner…as long as you can afford the premium price.
SPECS:
Depends upon the individual products.
PROS:
- As per all above features
- Top brands stand by DOWNTEK's claims
CONS:
- Products utilizing DOWNTEK's Stormdown tend to be substantially more expensive
- Not water-proof, but show us similarly treated down that is
Rating: 9.5/10
Function: 2/2
Warmth: 2/2
Innovation: 2/2
Durability: 2/2
Quality/Price: 1.5/2

This is only our opinion. Do you disagree? Did we miss something? Are we totally out to lunch? Join the discussion in the forums here, and let us know what you think. People like/dislike gear for different reasons so chime in and we'll get a well-rounded evaluation.
Back to the rest of the reviews.