Dynafit Eruption Down Jacket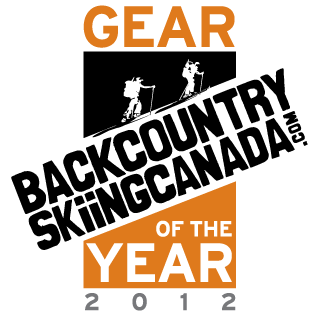 The Dynafit Eruption Down Jacket wins a clear "Gear of the Year" slot for the 2011/12 season. Dynafit has taken the simple, lightweight and smart approach used in developing binding and skis and brought it into the word of apparel. The Eruption Down jacket offers everything one needs and nothing more. Glückwünsche Dynafit!
The Backcountry Skiing Canada Team.
---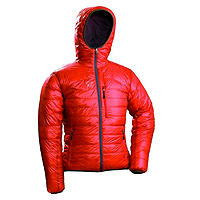 (Make certain to scroll down and check out the video)
There's nothing like down. Nothing. It is wonderfully warm, lightweight and it conforms to the curves of your body. It's not cold enough where I ski to wear all but-the-thinnest of down jackets on the uptrack, but a good down layer, like the Dynafit Eruption Down Jacket, has its important place in my outerwear line-up. I wear it mostly on lunch breaks while touring, as a warm layer in case of equipment failure or as a back-up if the shit hits the fan and I have to spend a night out. I also enjoy down as a warm, in-town layer. I want something that is compressible, light, simple and toasty.
I have had the Dynafit Eruption Down Jacket for almost two seasons now and it is close to perfection for my needs. It brings all that is good about down layers and little of the bad. It's not a super-puffy-Michelin-man affair, nor is it one of those down "sweaters" that seem to be en vogue these days. Its 600 fill power means it'll keep you warm in all but arctic conditions and it won't hog you pack real estate if you want to bring it with. The simple lycra elasticky fabric around the hood, sleeves and waist seal out drafts effectively.
The thing that struck me most about the Dynafit Eruption Down Jacket (one more time for SEO monkeys!) is that I was barely aware I had it on it was so light. There aren't any special panels to ward off abrasion on the shoulders or elbows--and who needs them. I mean, it's not like you are going to ski tight trees in this jacket, are you? Next up was the fit. Perhaps I should live in Europe because I would always know my size. It's 52. I am not an XL usually but in this case, I got a 52/XL and it couldn't fit me better. Let's take a look :

The chest pocket with requisit zipper garage. How did we ever survive w/o them?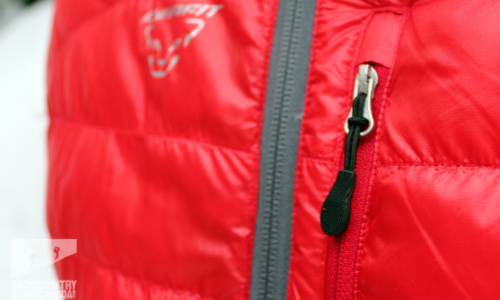 Down where it needs to be. Less under the arms, more on the tops. See how the squares are smaller underneath?

There's an elastic hem around the waist but also a one-hand pull chord for further cinching.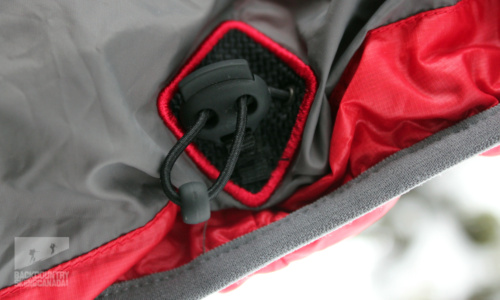 Back of the hood, single-hand pull cord and slightly odd and non functional design element. To get a good idea of the hood fit, look to the bottom for the video.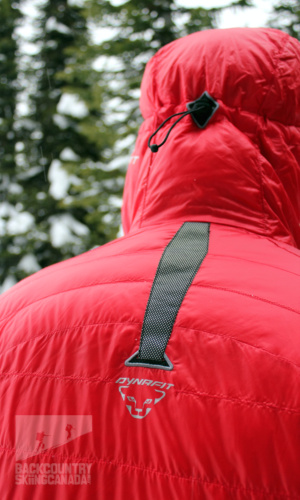 Handy safety tips to flash at your touring buddies or consult in time of emergency.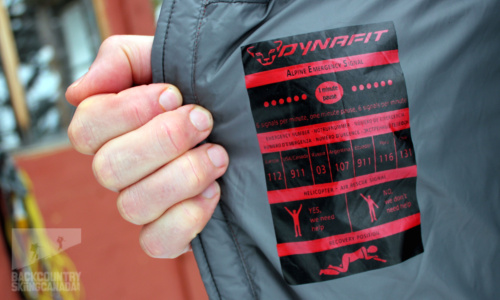 Diggin' and probin' with the Dynafit Eruption Down Jacket.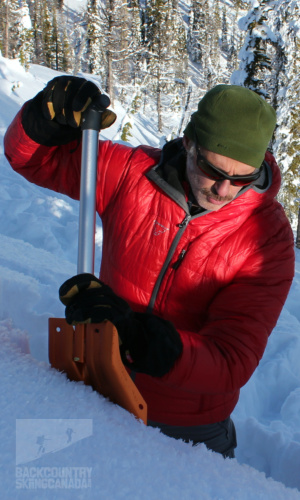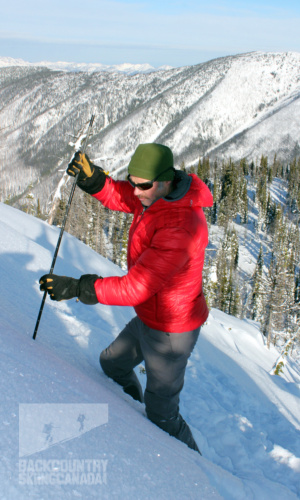 ... and of course the vid.

Verdict:
Three thumbs up for this jacket. Meets all my requirements for a good down layer—lightweight, warm, well-fitting, very simple and very compressible. If you are looking for a down layer you can throw on to keep you warm, rather than something you'd have on all day working, take a look at this jacket.
SPECS:
Price: $239 CDN (so buy it in North America)
Colours: black, walnut, flame, sparta blue
Sizes: 46/S | 48/M | 50/L | 52/XL | 54/2X | 44/XS | 56/3X
Filling: 90/10 grey goose down
Face fabric: 100% Nylon DWR finish (15x15 denier deluxe ripstop)
PROS:
(Am I repeating myself?) Lightweight, warm, compressible, cozy and simple.
CONS:
Not very water/abrasion resistant—not happy in wet snow/mixed precip./skiing in tight trees, etc. This feature would likely mean a heavier face fabric. No thanks. I have a hardshell for that. The zipper can be a little finicky and could perhaps be upgraded with something more robust.
Rating: 9/10
Fit 2/2
Packability 2/2
Warmth 2/2
Features 1.5/2
Quality / Price 1.5/2

This is only our opinion. Do you disagree? Did we miss something? Are we totally out to lunch? Join the discussion in the forums here, and let us know what you think. People like/dislike gear for different reasons so chime in and we'll get a well-rounded evaluation.
Back to the rest of the reviews.
---